Introduction
Just Health 510 provides complete oral health care to low-income adults and seniors in the San Francisco Bay Area, regardless of ability to pay. Powered by dental providers and donated equipment and supplies, Just Health 510 harnesses community goodwill to transform people's lives. The patients it serves includes include immigrants and military veterans who are homeless or at risk of homelessness, and other people struggling to make ends meet. Comprehensive restorative services are provided for every patient based on need, rather than reimbursement rates or insurance frequency limits.
Just Health 510 opened its doors to patients for the first time in July 2017. In its first six months of operation, volunteer providers gave free, comprehensive dental care to patients every Friday. Just Health 510 served an average of over 20 patients per month, and over 124 patients in 2017. And in the transition to 2018, the rate at which we see patients has only grown. Services provided to patients include everything from routine checkups and cleanings to root canals and dentures.
Patient Profile
Our patients are low income individuals and families from across the Bay Area. Many are veterans of the United States Uniformed Services, as well as elders, immigrants, and people of color. Most are homeless or at risk of homelessness. None of our patients has private insurance, and although some receive DentiCal, a significant number have no insurance of any kind.
The Need Is Great
Although we strive to see everyone who comes through our doors, because of capacity constraints, we already have a long patient waitlist. As a result, we have to prioritize some patients over others, in particular members of the community who are especially vulnerable and those referred to Just Health 510 by community partners.
has an emotional moment seeing his smile after receiving full dentures.
Veterans Initiative
We are proud to offer a special priority to veterans. Currently, only veterans who are 100% disabled or former prisoners of war are eligible for dental care under the Veterans Health Administration. This means there is a critical need for oral health services in our veteran community.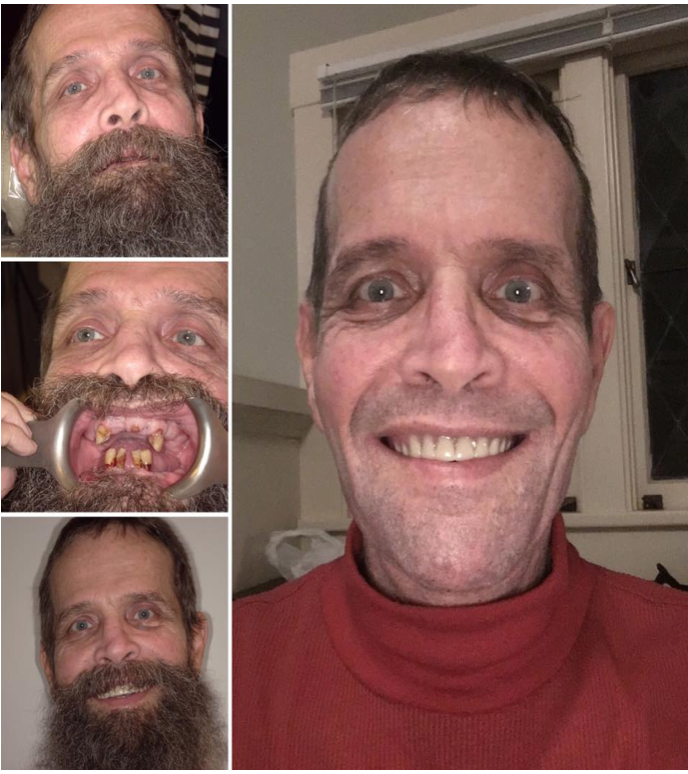 a US Army veteran, used to keep his mouth shut at family gatherings. Now, he won't stop talking and smiling! Russell's life changed after his visit to Just Health 510.
THE IMPACT OF JUST HEALTH 510
In the first six months after Just Health 510 opened its doors, we provided free dental care to patients for a total of 17 clinic days and over 150 clinic hours. A total of 250 services were provided to patients, the value of which exceeded $76,000.
For every $1,000 donated in 2017, Just Health 510 was able to:
Change the lives of 3 to 4 patients

Give patients over $2,000 in care, doubling the value of each dollar

Provide over 7 discrete services, ranging from cleanings and fillings to crowns and dentures
Patient Point of View
Just Health 510 values its patients and their opinions. To provide top-quality, comprehensive dental care, patient input into the quality of care and the providers who offer it is absolutely critical. Although we did not employ a patient satisfaction survey in 2017, many patients expressed their appreciation to Just Health 510's volunteer providers and staff. Several commented on the life-transforming power of the care that they received at Just Health 510. Others thanked providers for their kindness and courtesy in addition to the care they provided. Perhaps the biggest concern we heard from patients was that Just Health 510 is not able to take more patients. As we look for opportunities to increase our capacity and help more people, this is certainly something we hope to address soon!
Volunteers and Staff
Just Health 510 would not be able to open its doors and serve patients without its amazing volunteers and staff. In 2017, volunteer dentists covered every Just Health 510 clinic day between July and December, as well as outreach events where Just Health 510 provided care, such as the Veterans Stand Down in Contra Costa County and the Seattle / King County Clinic. And Just Health 510's paid staff in 2017—a receptionist and a dental assistant—were extremely efficient at checking in patients, scheduling appointments, and handling other administrative matters. Our strong volunteer support and our efficient, minimal staff ensured that Just Health 510 could focus on its mission: providing comprehensive oral health care to patients in need while minimizing overhead and other costs.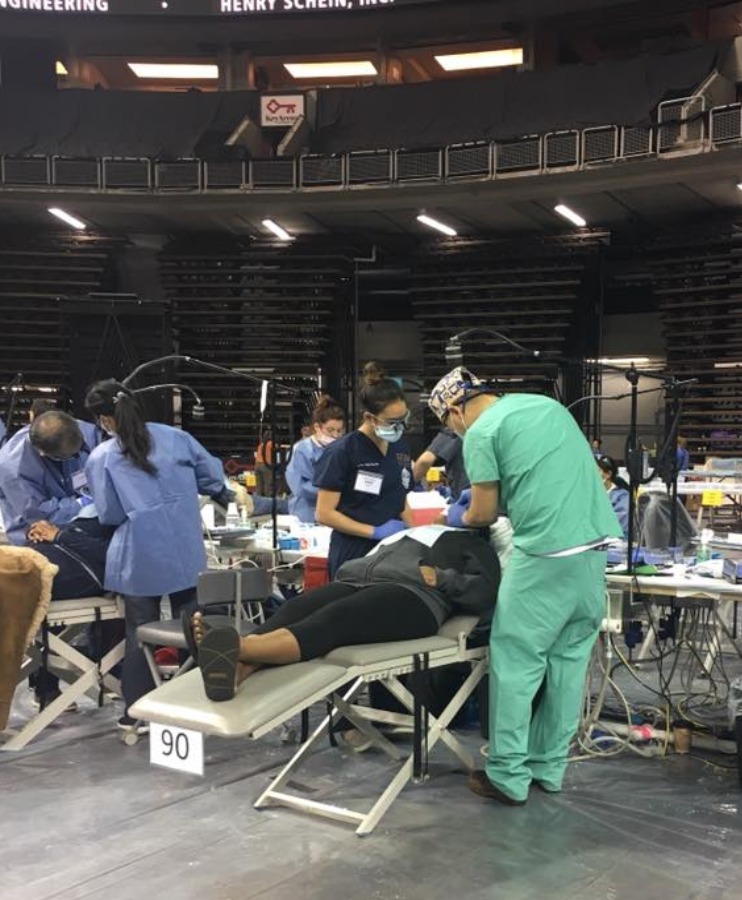 JH510 at the Seattle King County Clinic
JH510 at Veterans Stand Down Clinic
Growth of Just Health 510
Just Health 510 is ramping up its level of care. Starting January 2018, we opened our doors on additional days and increased our clinic hours. We plan to find new opportunities to increase our capacity in the coming months. As we continue to build up our operations, we'll need more support than ever to serve the fast-growing numbers of patients coming in the door.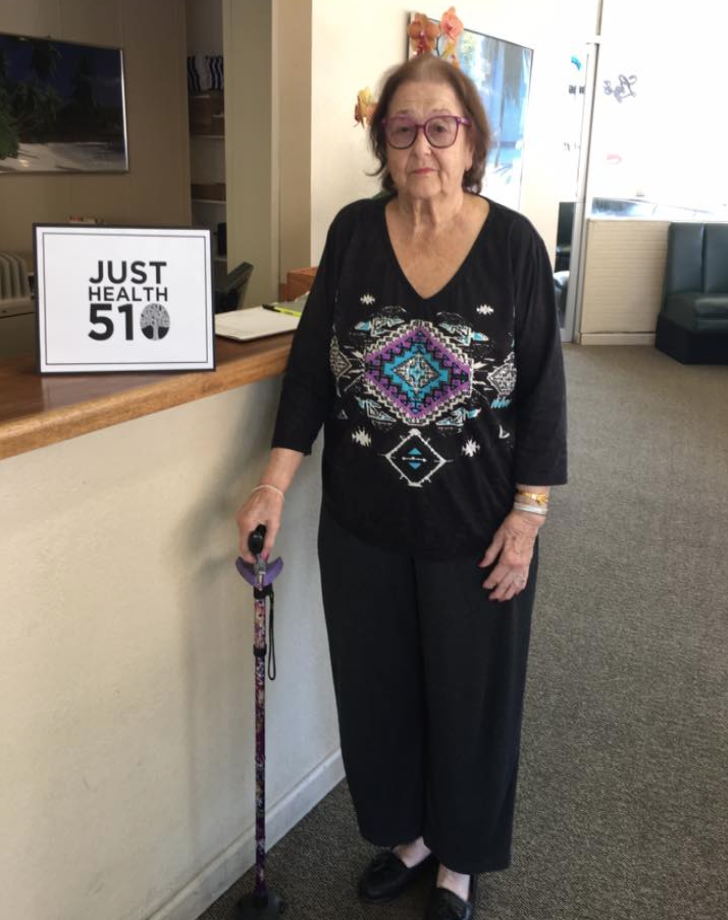 This patient came to JH510 with a broken denture.
We were able to repair it the same day with our onsite lab.
Conclusion
2017 was an exciting year for Just Health 510 as we opened our doors to begin serving patients. With our volunteer providers already having provided over $76,000 worth in oral health care services to 124 patients over 170 clinic hours, Just Health 510 has hit the ground running. As we pursue new opportunities and grow our patient base in the months to come, we will strive to continue furthering our mission: to provide comprehensive oral health care to all who need it, regardless of ability to pay.
Finances: 2017 Actuals and 2018 Projections
Donors
Just Health 510 wishes to thank all our donors who made contributions in 2017. Although Just Health 510 operates efficiently, funds from donors are critical in allowing us to pay our administrative staff, secure the materials necessary to provide care, and keep the lights on at the clinic. It would not be possible for Just Health 510 to carry out its mission without your generous support!